Welcome to a new weekly post featuring news about Allrecipes' videos. We decided it was time our substantial—and growing—video collection had a stand-alone post since they're a significant source of engagement for our community. They're also knockouts on small screensl! In the post, I'll recap the previous week's hits and highlights, what's new, what stands out, and the top performers from the previous week. Things are happening!

For the week ending 8/4/13, there were a total of 1,528,682 video plays. Here's a recap of the biggest hits. Notice that zucchini earned a place in both Top 5 categories. A lot of home cooks out there were seeking inspiration for using this prolific squash, along with summer's bounty of fresh fruit and veggies. Watch the videos for preparing blueberry and peach cobblers and you'll rush to your nearest farmers' market. You can even learn how to make homemade vanilla ice cream to top the cobblers. I like it!


Top 5 Videos Overall
(based on most PV's for the week ending 8/4/13)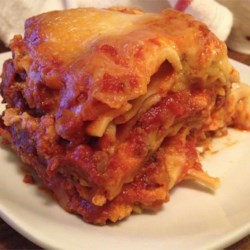 Slow Cooker Lasagna (Photo by Jex)
Slow Cooker Lasagna
Oh, So Good Chicken
Mexican Corn-On-the-Cob Elote
Grilled Tri Tip With Oregon Herb Rub
Mom's Zucchini Bread
Top 5 Videos Excluding Featured Content
(for the week ending 8/4/13)
Mom's Zucchini Bread
How to Cook Salmon
Best-Ever Blueberry Cobbler
Zucchini Noodles and Feta Meatballs
Southern Peach Cobbler
Top 5 Recently Published Videos
(based on average page views per day for week ending 8/4/13)
Kid-Friendly Crunchy Chicken Fingers
Gluten-Free Pizza Crust
The Best Banana Bread
How to Make Vanilla Ice Cream
Creamy Alfredo Sauce
A Few Standout Videos
Have you ever tried making butter? It's surprisingly easy, especially when you have a video to show you how—and now Allrecipes' home cooks do. It's one of our very newest published videos, for which we don't have metrics yet. I'm calling them out because they're interesting, seasonal, topical, "blockbustery," or in some way fun or noteworthy.
Watermelon Agua Fresca
How to Make Homemade Butter
Minute Chocolate Mug Cake
That chocolate cake mug cake made in 45 seconds is a winner, isn't it? Talk about addictive!
Also, here's an idea for what to do with any large slabs of Himalayan salt you might have lying around:
Shrimp Cooked on Pink Salt
Enjoy the show!
Posted by
RennyS
, Business Analyst