Ooey, gooey and crispy! State fair food
dribbles down your chin, sticks to your face and fingers, and is a total indulgence. It's as big—bigger to some people—a draw as the roller coaster, Ferris wheel, Tilt-A-Whirl, main stage entertainment, and blue ribbon winners in the livestock barns. If going to the state fair means being wild and cutting loose from normal routines, state fair food fits right in. Think funnel cakes, corn dogs, kettle corn, and deep-fried candy bars, Oreos® and KOOL AID® doughnuts. Totally wicked and bad for you, but oh, so good!
The surge in state fair food cravings—some might call it an addiction—mirrors attendance at state fairs. Attendance records are being broken all over the country this summer; more than 1 million people attended this year's Iowa State Fair, one of the country's largest; the Illinois State Fair reported its highest attendance in a decade, and visitors to the Indiana State Fair surged 15 percent over last year. And a lot of those attendees eating fair food want to make it at home; searches for fair food recipes on Allrecipes.com soared 167 percent this year in July and August compared with a year ago.
Hot news from the main stage: Allrecipes has a series of fun videos showing home cooks how to make popular fair foods—at home! The series features nine over-the-top decadent and delicious fair favorites. Which means you don't have to wait till next year's state fair to indulge on corn
dogs.
Check out 'em out below, or click this
YouTube Fair Food playlist
.
—
Invented—according to Texans—at the Texas State Fair, and to others by Charlie Boghosian at the San Diego County Fair, these decadent treats make regular Oreos look like plain Janes.

—
First popularized by Bernell "Fatman" Austin in 1963 at the Duchess Drive In located in Atkins, Arkansas, variations are available at fairs and festivals nationwide!
—
Appearing first in the 1920s, they were popular at the Texas State Fair in the late 30s and early 40s, and also at the 1941 Minnesota State Fair where they were called "Pronto Pups."
—
Introduced to the United States in the 1700s by Dutch settlers, this seductive treat is guaranteed to make you forget plain popcorn!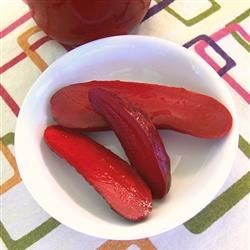 —

A newer fair food invention with origins in the Mississippi delta region, bright pink "koolickles" carry on the area's inventive food traditions, easily finding their way into the state fair circuit.

—
Seriously pink, Deep Fry King Charlie Boghosian is credited with inventing this decadent deep-fried treat.
—Maybe first created at the Minnesota State Fair as "Pig Lickers," or at the 2009 Florida State Fair as bacon served with a chocolate dipping sauce? Either way, they're totally wild!
—THE ultimate fair food! Although origins are fuzzy, most believe these crispy-fried confections were first made by Pennsylvania Dutch settlers.
—Supposedly first made at a chip shop in Scotland, they never gained popularity until the U.S. state fair food craze for deep-fried everything changed all that.
Now that you can watch the "how-to" directions and see how easy it is to make state fair food, which divinely decadent, delicious treat will you make first? And will you share?
-- Posted by
JudithD