Attention District 12 superfans: Lionsgate releases The Hunger Games on Blu-ray, DVD, On Demand, and Digital Download on August 18, 2012 at 12:01 A.M. (Oh, yes—we understand that every minute counts.)
And, we know it's been on your mind because we've actually received recipe submissions inspired by the movie—perfect for your viewing menu! We suggest starting with
Prim's Basil-Wrapped Goat Cheese Balls
as an appetizer (and be the first to submit a recipe photo!), then dig into the stew Katniss couldn't get enough of: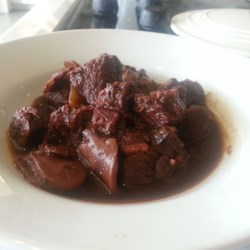 Hungry yet? Get a taste of DVD extras with this behind-the-scenes clip as they set up for a scene starring—yes—a lot of food:
THE HUNGER GAMES is on Blu-ray, DVD, On Demand & Digital Download 8/18 at 12:01 am.