You know how you'll see a recipe you really want to make for dinner, then you look at the ingredients and realize you don't have one of the spices you need? I
hate
that!
One of the best things I did to make cooking easier in 2011 was to just finally bite the bullet and buy
every basic spice you need in the kitchen
. Cost me about 50 bucks, but I think it's been worth it. How so, you ask? Well let me tell you.
Why I'm Happy I Splurged on Spices by Seth Kolloen
1) Makes my favorite recipes better
Two things I make at least a few times every week are
scrambled eggs
and
a basic homemade salad dressing
. Both of these are already pretty darn good (if I may say so) but I've discovered that adding dried parsley flakes on the eggs and a pinch of dill seeds to the dressing makes them even better.
2) Make my favorite recipes easier
That salad dressing above? I used to make it exclusively with minced fresh garlic, which means getting out a knife, peeling the garlic, doing the chopping, dealing with the clean up, etc. It isn't that much work, but sometimes you just don't feel like it, right? What I've found is that a pinch of garlic powder is a perfectly acceptable substitute.
3) Improve practically everything I cook
The spice bottles I bought (from Penzey's, which has a shop just down the block from Allrecipes HQ) have helpful little tips about what foods they are best on. So anytime I make anything I've been checking the little bottles to see if they might go with what I'm making. Just a few of the additions I made: Dried marjoram flakes on fresh salads, whole peppercorns in beef stew, and bay leaves in rice. So much more flavor with hardly any effort!
4) I never have that "I'd love to make that but..." feeling again
Okay, I mentioned this above, but it bears repeating--now I never have to ditch plans for a good-tasting recipe. These
simple five-star pork chops
? I can make them now!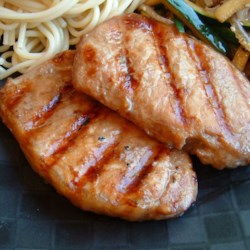 5) I look cool One of the best parts of using these spices is you can be all "oh, I added a dash of turmeric for color," and your dinner guests or whoever will be like "wow!" -- when really you are just repeating something you read on the Internet.
Like I said, I bought all my spices at Penzey's Spices, which
has stores in most major U.S. cities
, but of course you can just stock up at the supermarket. I used
this Allrecipes article
to help build my list, which I keep as a checklist on my mobile phone. So whenever I run out of something, I just make a note on the list, and next time I'm at the store I grab it. Easy!