Being creative in the kitchen is what it's all about, even with supporting players such as condiments and dips, where DIY touches can make a recipe memorable and impress family and friends. Last week (August 14 – 20, 2015), cooks were inspired by homemade versions of
Ranch dressing
and a
bacon-cheese dip
. Chef John's new recipe for a summer
fresh fig and goat cheese tart
also inspired thousands of recipe box saves, while recipes using seasonal
zucchini
and
pears
were popular. Main dish recipes starring
chicken
and
Salisbury steak
, plus
casseroles
and
slow cookers
also ranked high on search lists. Here is the week's summary:
Fresh herbs season Ranch Dressing II, which received the largest increase in page views and prints last week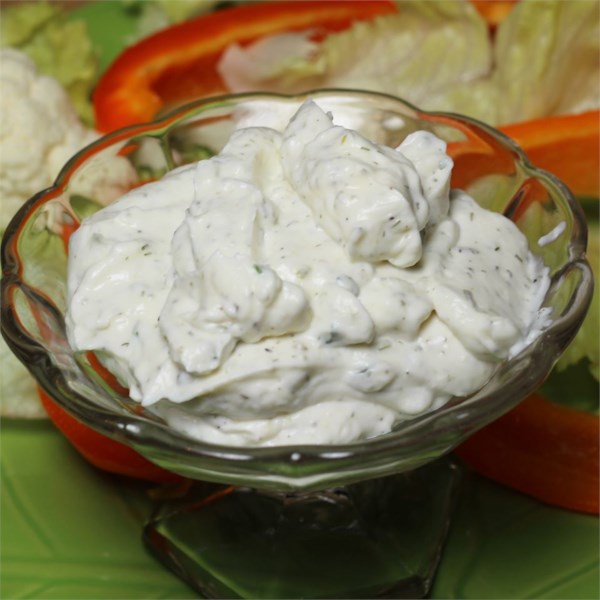 Ranch Dressing II (Photo by Paula)
Last Week's Top Search Terms
Seasonal ingredients and tried-and-true dinner ideas such as goulash recipes categorized the fastest-growing week-over-week search terms driving traffic to the site—with one exception, exotic, slightly other-worldly poutine. Other fast-growing search terms in this category included zucchini cakes recipes, chicken slow cooker recipes, and pear recipes.
As for the fastest-growing week-over-week internal search terms, it was all about dinner inspiration: anniversary chicken, slow cooker Salisbury steak, tequila lime chicken, and chicken noodle casserole.
Top 10 Fastest Growing Year-Over-Year Terms
Searches to answer the "What's for dinner?" question were top-of-mind for many home cooks last week
(August 14 – 20, 2015). Whether carnivores or vegetarians, whether preparing a
casserole, meatloaf, pork chops
, or
zucchini patties
, main dishes were the main attraction. As mentioned,
poutine
made the list as the week's outlier dish.
FASTEST-GROWING Year Over Year KEYWORD (Internal) SEARCHES

(August 14-20, 2015)
1. Anniversary chicken +1,149%
2. Quinoa and black beans +411%
3. Zucchini patties +313%
4. Chicken noodle casserole +238%
6. Oven fried pork chops +172%
8. Brown sugar meatloaf +136%
10. Salisbury steak +133%