Two favorite ingredients sparked last week's
(10/10 to 10/16/2014) recipe searches: pumpkin and harissa sauce. It's prime time pumpkin season, so any recipe using the plump orange fruit is a magnet for home cooks—especially pumpkin pie. And leave it to Chef John to come up with a harissa sauce recipe everyone wants in their recipe box and ready to use in their fridge. Everyone also zeroed in on a brand new recipe for Beer Can Chicken. Check out the week's highlights:
Pumpkin fans win with this one: Perfect Pumpkin Pie earned the week's largest increase in page views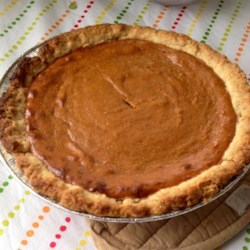 Perfect Pumpkin Pie (Photo by Natcat)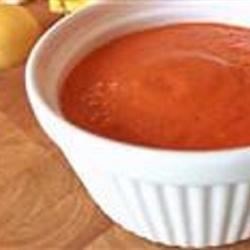 Chef John's Harissa Sauce (Photo by Mike)
The perfect match for meaty fall meals, Garlic Red Potatoes had the largest week-over-week increase in Recipe Box saves
The Week's Top Search Terms
Canadians' searches for Thanksgiving recipes also seasoned last week's search terms as they looked for inspiration and preparation tips for their October 13 feast along with leftovers for meals afterwards. The week's fastest-growing search term driving traffic to the site last week was turkey cooking time. Other fast-growing search terms driving traffic to the site included turkey soup, how long to cook a turkey, turkey soup recipes, and turkey pot pie.
The week's fastest-growing internal search terms followed right in synch with this pattern and included turkey soup, kung pao chicken, turkey pot pie, and leftover turkey.
Top 10 Year-Over-Year Fastest Moving Key Words
Canadian home cooks prepping for Thanksgiving also drove key word searches last week (
10/11 to 10/17/2014), particularly for how long to cook a turkey. Added to this were recipe searches for the hugely popular beer can chicken and apple pie made with fresh apple. Stuffed bell peppers continued to hold their own among the top five terms.
FASTEST GROWING KEYWORD (External) SEARCHES – 10 October – 17 October, 2014
1. How long to cook a turkey + 629%
2. Beer can chicken +551%
3. Stuffed bell peppers recipe +416%
4. Apple pie with fresh apples 170 0.0% 823 0.0% 384.0%
5. Egg salad recipes +276%
6. Cooking a turkey +237%
8. All recipes recipe search +220%
9. Chicken enchiladas recipe +206%
10. Breakfast ideas +182%
Pumpkin, turkey or harissa sauce. Have a favorite—or are all three best friends in your kitchen?