Tantalizing aromas and complex spices are enticing more Americans into Thai restaurants. (Move over, Italian and Mexican!) Home cooks are also intrigued. Interminglings of sour, sweet, salty, bitter and spicy flavors of the popular Southeast Asian cuisine inspired last week's (4
/3 to 4/9/2015) most popular new recipe. In an All-American twist, spaghetti and chicken tenders combined with the Thai flavors. Recipes for asparagus and sangria also seasoned the 'most popular' selections, and all those cooks with leftover Easter ham and eggs searched for recipes using these two holiday ingredients. Here's a review of last week's recipe action.
Easter ham had a rerun in Ham Tetrazzini, the recipe with the largest week over week increase in prints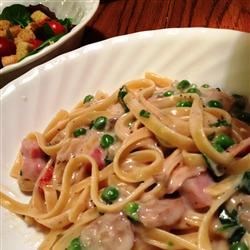 Ham Tetrazzinii (Photo by

jgbeck

)
With Cinco de Mayo around the corner, Pretty in Pink Sangria saw the largest week-over-week increase in Recipe Box saves
Last Week's Top Search Terms
"Green eggs and ham" didn't show up among last week's search terms, but it could have. (Thanks, Dr. Seuss!) Cooks seeking inspiration for leftover Easter ham searched for ideas to use the leftover meat and bones.
The fastest-growing week-over-week search term driving traffic to the site last week was
leftover ham recipes
. Other fast-growing search terms driving traffic to the site included recipes for
leftover ham, ham and bean soup, deviled eggs recipe
, and
ham soup
.
Internal search terms were also post-Easter related. Last week's fastest growing week-over-week internal search terms were ham bone soup, leftover ham, left over ham, ham soup, and ham bone.
Top 10 Year-Over-Year Fastest Moving Key Words
Ham and bean soup
was last week's (4/9 to 4/15/15) runaway top search term when compared with the same post-Easter week in 2014. There were also searches for other ham-related recipes, but as home cooking got back to 'normal,' banana banana bread, sloppy joes and grilled cheese sandwiches also showed up on the Top 10 most-searched for list.
FASTEST GROWING KEYWORD (External) SEARCHES

( April 9 – 15, 2015)
1. Banana banana bread +353%
2. Ham and bean soup +311%
3. Blueberry muffins recipe +231%
4. Grilled cheese sandwich +226%
5. Ham and bean soup recipe +224%
6. Leftover ham recipes +224%
7. Soppy joes recipe +219%
8. Beef stroganoff recipes +208.1%
9. Split pea and ham soup +191%
10. Cream cheese pound cake recipe +189%
What are you preparing with your Easter Dinner leftovers? Share the recipe!