Allrecipes home cooks know what they like. If a recipe includes chicken or bacon, it's a winner. If it's a ricotta dessert pie with Italian heritage, it's a super star. Reviewing last week's (8/15 to 8/21/2014) recipes supports these observations. A new, easy-to-make soup recipe ( Soup? Is summer already winding down?) pairs chicken and tomatoes and claimed first place for the week's most popular new recipe, while a favorite family recipe for a creamy ricotta pie also earned attention. Here are highlights from the past week: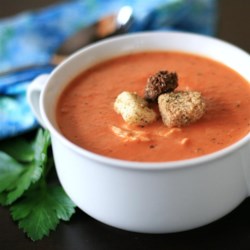 Tomato Bisque with Chicken (Photo by LilSnoo)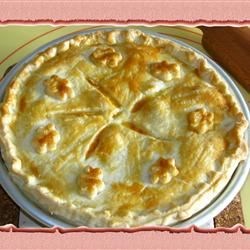 Ricotta Pie (Old Italian Recipe) (Photo by taylor)
The

World's Best Bacon Cheese Dip

showed the largest week over week increase in Recipe Box saves, probably by home cooks with Labor Day entertaining in mind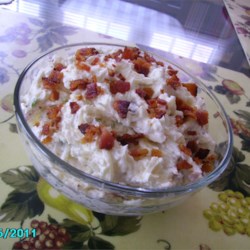 World's Best Bacon Cheese Dip (Photo by Christina)
The Week's Top Search Terms
"Down home" and "familiar" would are the best adjectives to describe the fastest growing week-over-week search terms driving traffic to the site. Egg salad recipes topped the list, followed by
magic bars, vegetable soup recipe, hot pepper jelly recipe
, and chicken nuggets recipe.
The fastest growing week-over-week internal search terms were also familiar favorites, most related to breakfast, including
biscuits, breakfast casserole, slow cooker
, and pancakes.
Top 10 Fastest Moving Key Words
Reviewing key words based on external searches in the past week (8/15 to 8/21/2014), the top 10 terms reflect popular seasonal cooking (fresh peaches), dinner favorites (stuffed bell peppers, lasagna, chicken and dumpings), and familiar, easy favorites (deviled eggs, frittata, Portobello mushrooms). Easy-to-make dump cake claimed honors as a Top 10 dessert.
1. Stuffed bell peppers recipe +741%
2. Peach cobbler with fresh peaches +460%
3. Peach pie with fresh peaches +225%
4. Portobello mushroom recipes +168%
5. Lasagna recipe with ricotta cheese +161%
6. Dump cake recipes +159%
7. Frittata recipes +132%
8. Deviled egg recipes +131%
9. Chicken and dumpling recipe +123%
10. Alfredo sauce recipe easy +100%
What new recipe did you discover this summer?