Snow, ice, and sleet have blanketed the Midwest and East nonstop this winter. Even with March on the horizon, winter won't loosen its grip. No need to look at a weather map to know. Allrecipes' home cooks are still dealing with the blizzards by searching for
snow ice cream recipes
. In fact, this was the fastest-growing search term driving traffic to the site last week (2/13 to 2/19/2015). With Valentine's Day and Mardi Gras on the calendar,
lobster
,
pancakes
, and
beignets
sweetened the list of top recipe searches.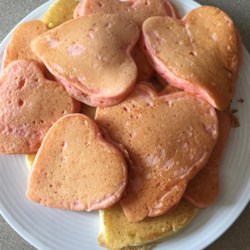 Heart-shaped Fluffy Pancakes (Photo by
charleneryanday)
The Week's Top Search Terms
Also reflecting U.S. weather patterns, snow ice cream was the fastest-growing week-over-week search term driving traffic to the site. Other fast-growing search terms driving traffic to the site were weather-related and a clue to the main dish many Valentine's Day cooks prepared: snow ice cream recipes, cooking lobster tails, snow ice cream recipe, and lobster tail recipes.
Mardi Gras played a role in last week's fastest growing internal search terms: snow

ice cream
, beignets, lobster tail, king's
cake
,
and king crab legs.
Top 10 Year-Over-Year Fastest Moving Key Words
'Seasonal' and 'snowy' characterized this week's (2/14 – 2/20/2015) fastest growing search terms compared with last year's. Searches for comfort foods such as potato soup, biscuits, deviled eggs, and sugar cookies made the weather seem inconsequential.
FASTEST GROWING KEYWORD (External) SEARCHES

(14-20 February 2014)
1. Snow cream recipe +711%
2. Potato soup recipes +630%
3. Snow cream +456%
4. Deviled egg recipes +425%
5. How to make marshmallow cream +413%
6. Homemade meatballs recipe +365%
7. Snow ice cream recipes +264%
8. Taco seasoning mix recipe +259%
9. Biscuits recipe +249%
10. Sugar cookies recipe +235%
Chocolate or vanilla? What's your favorite snow ice cream flavor?