Now that December's chill has arrived, soup seems like a very good dinner option to many home cooks. So appealing in fact, that a hearty Italian-inspired soup recipe captured the trifecta this past week (12/05 to 12/11/2014). Add search terms associated with holiday entertaining and cookie baking, and you know the season of merriment is here.
The week's winner was: Italian Sausage Soup! This hearty recipe received the largest increase in page views, prints, and Recipe box saves.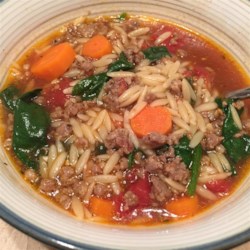 Italian Sausage Soup (Photo by KelsJez)
The Week's Top Search Terms
It's officially cookie baking season—particularly for ginger cookies and sugar cookies. The fastest growing week over week search term driving traffic to the site last week was big soft ginger cookie. Other fast-growing search terms driving traffic to the site included best sugar cookie recipe for cutouts, sugar cookie recipe for cookie cutters, haystacks recipe, and easy sausage cheese balls.
Last week's fastest growing internal search terms were stromboli, Italian sausage soup, roll out sugar cookies, peanut butter blossom, and nut rolls.
Top 10 Year-Over-Year Fastest Moving Key Words
Comparing this year's fastest-growing search terms with last year's based on external searches, biscuits and spritz cookies earned top spots.

Other holiday favorites such as egg nog and spritz cookies also made the Top 10 list. Many home cooks were also seeking easy dinner ideas to streamline meals during the busy holiday season. Anyone for crock pot mac 'n cheese or chicken enchiladas?
FASTEST GROWING KEYWORD (External) SEARCHES – 5 – 11 December, 2014
2. Spritz cookies recipe +274%
3. Sloppy joes recipe +259%
4. Chicken enchiladas recipe +240%
5. Crock pot macaroni and cheese +214%
6. Mediterranean diet recipes +190%
7. Christmas cookie wreath pictures +182%
8. How to make eggnog +154%
9. Chicken drumstick recipes +144%
10. Beef tenderloin recipes oven +137%
Do you have a special Christmas cookie you must bake?