Allrecipes home cooks know how to pick out the tastiest recipes! Last week's (1/16 –
1/22/2015)
hits starred salmon and lemons along with a new recipe for roasted cabbage. (We know there's trend happening with cruciferous veggies. Check out our picks for 2015 Food Trends in this special issue of the Measuring Cup Report.) And watch out, crab cakes! Chef John of FoodWishes has come up with a winning recipe for salmon cakes. Add lemon bars as the perfect winter treat and life is guaranteed delicious. Here are details:
The most popular recipe added last week was Roasted Cabbage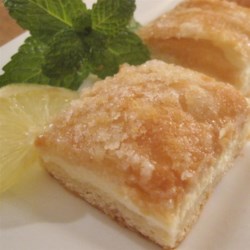 Lemon Cream Cheese Bars (Photo by LYNNINMA)
Totally fabulous, Chef John's Salmon Cakes saw the week's largest increase in prints, plus had the most recipe box saves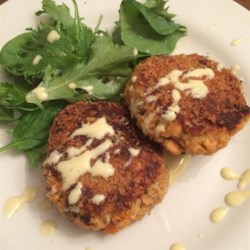 Chef John's Salmon Cake (Photo by

Kimtbarnes)
The Week's Top Search Terms
Sweets tied with savories for the week's top search terms. The fastest growing week-over-week search term driving traffic to the site last week was pecan pie muffins. Other fast growing search terms driving traffic to the site included chocolate-covered

strawberries

, ribs in crock pot, quiche recipes with easy frozen pie crust

,
and recipe for salmon patties.
The fastest growing week-over-week internal search terms reflect home cooks' perennial interest in easy dinner ideas as well as Big Game recipes to satisfy the home team. They included: easy tuna casserole, super bowl recipes, mini meatloaves, Buffalo chicken chili, mini meat loaf, and pistachio. Delish!
Top 10 Year-Over-Year Fastest Moving Key Words
Comparing last year's top key words with this year, granola captured last week's (1/23-29/2015) number one and number two spots by a mammoth touchdown! Tried-and-true dinner recipes for stuffed bell peppers and sloppy joes maintained their status, while football entertaining inspired searches for Super Bowl food ideas and meatball appetizers.
FASTEST GROWING KEYWORD (External) SEARCHES

(23-29 January 2014)
1. Granola recipes +7,546%
2. Homemade granola +387.1%
3. stuffed bell peppers recipe +380%
4. Sloppy joes recipe +277%
5. Bread machine bread recipes +266%
6. Super bowl food ideas +251%
7. Meatball appetizer recipes +223%
8. Nachos recipes +222%
9. Potato soup recipes +200%
10. Biscuits recipe +185%
Here's to well-fed football fans on Sunday courtesy of Allrecipes!