Cr

ê

pes, with all their sweet or savory fillings, captured the taste buds of home cooks last week (May 8-14. 2015) and were probably a Mother's Day treat. If

cr

ê

pes

pushed boundaries by being a bit exotic, something familiar—

chicken

—turned up as the week's most popular new recipe. For delicious reasons. It's hard to resist a golden-skinned whole roasted chicken accented with rosemary and lemon. A creamy, easy-to-make side dish starring frozen corn also appealed to lots of cooks. Here are highlights for last week's starring recipes and search terms.
A recipe for versatile Basic Cr

ê

pes had the largest increase in page views and prints last week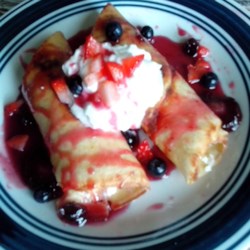 Cr

ê

pes (Photo by Selena 313)
Corn lovers out there saved Yum-Yum Corn in record numbers to their Recipe Boxes
Last Week's Top Search Terms
With strawberries showcased in many produce sections, strawberry recipes attracted attention last week. The

fastest-growing search term driving traffic to the site last week was a favorite Mother's Day treat:

chocolate dipped strawberries

. Other fast-growing search terms driving traffic to the site were festive dishes Mom would enjoy:

blueberry French toast casserole, strawberry upside down cake, kabobs on the grill

, and

bacon-wrapped jalape

ñ

os

.
Among internal search terms, last week's fastest-growing terms also reflected Mom's holiday: apricot, lobster tails, rhubarb recipes, potato casserole, and recipe box.
Top 10 Year-Over-Year Fastest Moving Key Words
Comparing year-over-year search terms last week (May 9-15, 2015), brownies, biscuits and blueberry muffins held the top spots. A signal that summer has (almost) arrived, How to make ice cream slipped into the top 10 list. Other search terms reflected treats and desserts to please Mom.
FASTEST GROWING KEYWORD (External) SEARCHES

( May 9 –15, 2015)
1. Allrecipes recipe search +1,574%
3. Blueberry muffins recipe +317%
5. How to make ice cream +280%
6. Broccoli salad with bacon and raisins +258%
7. Deviled egg recipes +243%
8. Blueberry French toast casserole +237%
10. Cheesecake with strawberries +222%
11. Strawberry upside down cake +209%
What is your favorite spring dish?