Nothing says "holiday" faster than homemade
sugar cookies
. This means the holiday season officially started last week (11/7 to 11/13/2014) when the recipe for
Easy Sugar Cookies
had the largest increase in page view and prints. If 4,0001 reviews and 339 photos by Allrecipes' home cooks are any indication, this recipe is a hands-down winner! Holiday entertaining and baking also influenced both internal and external searches. Thanksgiving hosts looked for
appetizer
ideas,
turkey in a bag, festive salads
, and
punch recipes
. And who doesn't want to open a tin of
peppermint bark
in December? Here's the week's recap:
Easy Sugar Cookies received the largest increase in page views last week, as well as had the largest increase in prints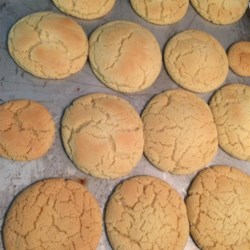 Easy Sugar Cookies (Photo by Katie Buff)
The Week's Top Search Terms
In keeping with the start of the holiday season,

the fastest-growing search term driving traffic to the site last week was best pie crust recipe. Other fast growing search terms driving traffic to the site included peppermint bark, cauliflower, turkey in a bag, and Watergate salad.
Low traffic and unique searches made up the majority of internal search terms. After these, the next top internal searches included cream pie, cranberry jello salad, holiday punch, and holiday cookies.
Top 10 Year-Over-Year Fastest Moving Key Words

Paleo
people mingled with Thanksgiving cooks based on a comparison of last week's (11/7 to 11/13/2014) year-over-year external searches. Stuffing—specifically crockpot stuffing—and sweet potatoes made the top 10 search term list, as did perennial favorites such as chicken enchiladas, hamburger casserole, deviled eggs, and chicken thighs.
FASTEST GROWING KEYWORD (External) SEARCHES – 7-13 November, 2014
1. Stuffed bell peppers recipe +511%
4. Chicken enchiladas recipe +221%
5. Crockpot stuffing recipe +171%
6. Sweet potato Thanksgiving +164%
7. Hamburger casserole recipes +154%
8. Deviled egg recipes +145%
9. Baked chicken thighs +130%
10. Shrimp scampi recipe +126%
What is your favorite homemade holiday cookies?