If you didn't already know
Sriracha sauce
was hot, hot, hot, Allrecipes can fill you in. Chef John's dynamo of a chicken wings recipe hit the trifecta last week (6/19 – 6/25/2015), again emphasizing the mystique of the spicy Thai hot sauce. Also--of course--when Chef John makes
macaroni salad
, everyone is going to jump on the recipe and slide it into their Recipe Box. These and other classic Fourth of July dishes were tops with home cooks as June simmered into summer history. Here's the week's summary.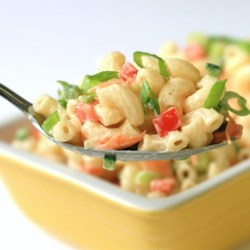 Chef John's Macaroni Salad (Photo by LilSnoo)
Chef John knows his stuff! Trendy Crispy Honey Sriracha Chicken Wings saw the largest increase in page views, had largest increase in prints, and earned the most Recipe Box saves. Wow!
Last Week's Top Search Terms
Cherry cobbler, peach cobbler, macaroni salad
and zucchini chips pointed out the inspiration home cooks find from summer fruit and veggies. Both were top search terms last week, with
pork marinade standing out as the fastest-growing search term driving traffic to the site. Other fast growing search terms included cherry cobbler with fresh cherries, pot roast recipe crock pot, zucchini chips, and Salisbury steak.
Summer also ruled the week's fastest growing internal search terms with Fourth of July, zucchini chips, 4th of july, fresh peach cobbler, and macaroni salad.
Top 10 Year-Over-Year Fastest Moving Key Words
No disputing the fact that the seasons influence what's cooking in American kitchens. A look at last week's (6/20-6/26/2015) external search terms compared with a year ago shows a range of favorite summer dishes. Macaroni salad stands out, along with baby back ribs, peach cobbler—Southern-style, please—plus How to make ice cream and mojitos. Delish!
FASTEST GROWING Year Over Year KEYWORD (External) SEARCHES

( June 19 – 25, 2015)
1. Classic macaroni salad +502%
2. Baby back ribs recipe +252%
3. Southern peach cobbler +243%
4. Broccoli salad with pecans and raisins +240%
5. How to make ice cream +230%
6. Pot roast recipe crock pot +204%
7. Mojito pitcher recipe +189%
8. Banana pudding recipes +157%
9. Breakfast casserole recipe +142%
10. Cornbread recipes +136%
Will you make Chef John's macaroni salad for the Fourth?