Canadians always have a head start on the big autumn feast by celebrating it mid-October. Evidence our northern cousins were planning their Thanksgiving meal showed in both external and internal searches last week (
10/3 to 10/9/2014) with cranberry sauce, stuffing, and pumpkin tart recipes topping the charts. Other favorites ranged from a new Salisbury steak recipe to a family-pleasing chicken dish—and who wouldn't crave a cinnamon sugar-dusted donut muffin? Here's a recap of last week's activity.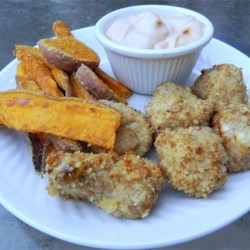 Baked Chicken Nuggets (Photo by Scotdog)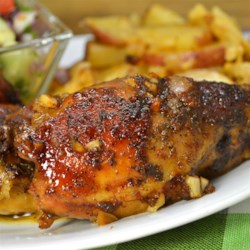 Honey-Garlic Slow Cooker Chicken Thighs (Photo by *Sherri*)
Donut Muffins saw the largest week-over-week increase in Recipe Box saves
Donut Muffins (Photo by Nan W)
The Week's Top Search Terms
It seems no one remembered from last year how to make cranberry sauce. It was the fastest growing, week-over-week search term driving traffic to the site. Other fast-growing external search terms included turkey brines, cranberry sauce recipes, cranberry sauce recipe, and hush puppy recipe.
The fastest-growing week-over-week search terms based on internal searches included turkey stuffing, cranberry sauce, turkey dressing, and pumpkin tarts. No doubt a lot of Canadian ate very well on October 13th.
Top 10 Year-Over-Year Fastest Moving Key Words
Based on year-over-year traffic trends, key word searches last week (
10/4 to 10/10/2014)
didn't reflect the same Canadian Thanksgiving influence. Instead, terms were more egalitarian, reflecting home cooks' searches for easy weeknight meals and seasonal dishes such as
apple pie with fresh apples
.
Stuffed bell peppers
and
beer can chicken
rocked the top spots, far out in front of last year's searches.
FASTEST GROWING KEYWORD (External) SEARCHES – 4 October – 10 October, 2014
1. Stuffed bell peppers recipe +674%
2. Beer can chicken +657%
3. All recipes.com recipe search +343%
4. Egg salad recipes +305%
5. Hamburger casserole recipes +281%
6. Cucumber salad recipe + 199%
7. Sautéed mushrooms +181%
8. Apple pie with fresh apples +179%
9. Kentucky butter cake +164%
10. Chicken and dumplings recipe +161%
Have you begun contemplating your Thanksgiving menu?