No need to consult the calendar to see which holiday is coming up. Allrecipes home cooks know it's Halloween. Searches last week (10/17 to 10/23/20-14) for
roasted pumpkin seed recipes
are the giveaway. Searches for
slow cookers, chicken
,
chicken pot pies
,
pumpkin cheesecake
, and
apple
treats also signal we're deep into autumn favorites. And leave it to Chef John to give standard mashed potatoes a hip, new—did someone say "low-carb"?—persona by blending in
celery root
. Here's a recap of last week's most delicious recipes and search terms. Dig in!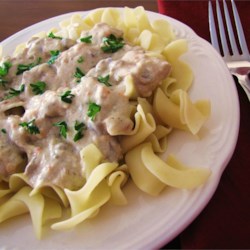 Slow Cooker Chicken Stronganoff (Photo by

Dianne

)
The Week's Top Search Terms
A comfort food favorite topped last week's list of search terms driving traffic to the site:
chicken pot pie recipe easy
. (Allrecipes' home cooks are all about "easy" when it comes to getting meals on the dinner table.) Other fast-growing search terms driving traffic to the site had autumn flavors or summer holdouts, while South-of-the-Border recipes appealed to the entertaining crowd. They included strawberry smoothie recipes, how to make apple

pie
, Mexican appetizers
, and
double layer pumpkin cheesecake
.
The fastest-growing internal search terms showed international flair with crème fraiche and taco pie, while Halloween's approach may have influenced DIY-ers to search for hard candy.

Fennel? That's an ingredient a lot of curious cooks wanted to know how to use.
Top 10 Year-Over-Year Fastest Moving Key Words
A Tex-Mex favorite along with crock pot recipes and "can't get enough" stuffed bell peppers,
topped the list of key words driven by external searches. The availability of autumn ingredients also inspired home cooks to search for apple pie made with fresh apples and pumpkin cookies. Brussels sprouts fans turned on their ovens to roast the tiny cabbages. Delish!
FASTEST GROWING KEYWORD (External) SEARCHES – 17 October – 24 October, 2014
1. Stuffed bell peppers recipe +404%
2. Chicken enchiladas recipe +337%
3. Crock pot recipes +315%
4. Apple pie with fresh apples +262%
5. Pumpkin cookies with frosting +227%
6. Cocktail meatballs +223%
8. shrimp scampi recipe +196%
9. Egg salad recipes +181%
10. Roasted Brussels sprouts +177%
What's your favorite 'must make' Halloween recipe?