Slow cookers are a cook's BFF. Year-round but especially as the season cools down, these handy appliances make it a breeze for busy families to put a hearty dinner on the table. No surprise then to find a slow cooker recipe was last week's (
9/12 to 9/18/2014)
top new recipe. Slow cookers also inspired cooks looking for a garlicky chicken thigh recipe, while autumn apples inspired searches for muffins and apple crisp.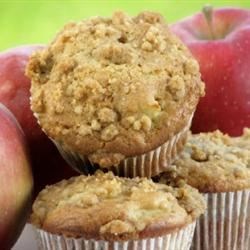 Apple Pie Muffins (Photo by

mominml

)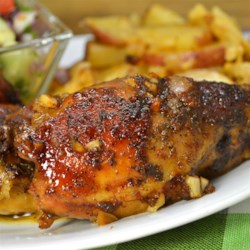 Honey-Garlic Slow Cooker Chicken Thighs (Photo by *Sherri*)
The Week's Top Search Terms
Soup's on! At least that was true in many households last week. And the top soup choice was a classic: chicken noodle soup, which earned its claim to fame as the fastest growing week-over-week search term driving traffic to the site. Other fast-growing search terms in this search term category were seasonal, and included slow cooker stew, apple crisp recipes, taco seasoning mix recipe, and Thai coconut soup.
Last week's fastest growing internal search terms might be most easily categorized as eclectic. They included baked fries, pepperoni bread, pumpkin pancakes, and Amish.
Top 10 Fastest Moving Key Words
When reviewing last week's (9/12 to 9/18/2014) fastest growing external search terms on a year-over-year basis, stuffed bell peppers, peaches and apples continue to dominate. Stuffed bell peppers are an affordable main dish, while it's last call for this season's fresh peaches and the first for apples. Cake bakers were also active, searching for angel food cake and dump cake recipes.
KEYWORD SEARCHES -- 12-18 September 2014
1. All recipes recipe search +3,640%
2. Stuffed bell peppers recipe 833%
3. Peach cobbler with fresh peaches +470%
4. Apple pie with fresh apples +355%
5. Peach pie with fresh peaches +268%
6. Slow cooker pork recipe +249%
7. Angel food cake recipe

+240%
8. Chicken noodle soup recipes +216%
9. Hamburger casserole recipes + 191%
10. Dump cake recipes +174%
What is your favorite slow cooker recipe?